Project Update
·
09.29.2023
The County of San Mateo Navigation Center is the Community Impact honoree for this year's Structures Awards
The construction of the center was largely funded by a $46.1 million grant from California's Homekey program, an initiative to quickly shelter the state's growing number of unhoused residents.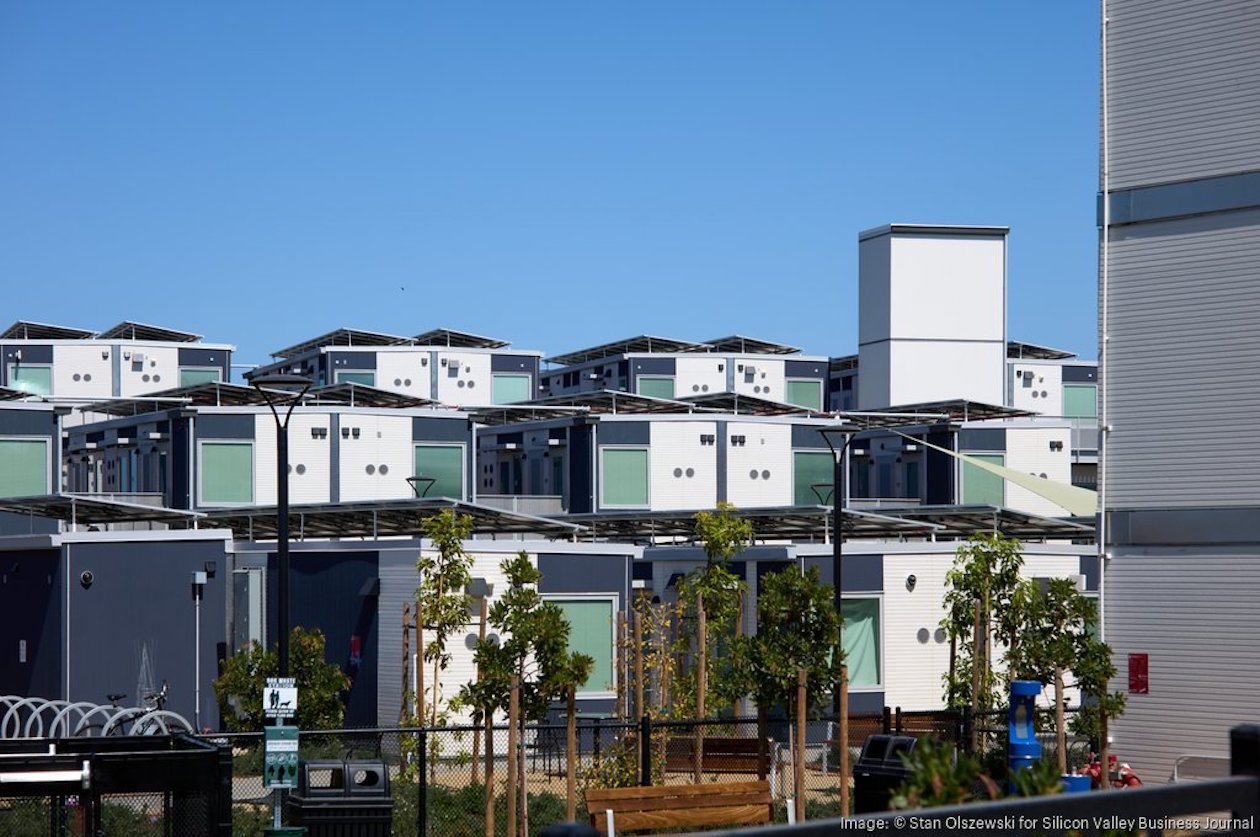 What would a world without homelessness look like?
Such a vision may seem too lofty to imagine, but officials at the County of San Mateo are doing their best to make it a reality. The county's Navigation Center in Redwood City offers 240 private shelters to individuals experiencing homelessness. And as these residents transition to permanent homes, they'll be moving the county closer to its goal of eradicating homelessness completely.
We really understood that folks were more inclined to come in off the street if they had privacy, if they had a place to call their own,

said Mike Callagy, the County of San Mateo's CEO.

We can give people a hand up so they can really get stabilized.
The construction of the center was largely funded by a $46.1 million grant from California's Homekey program, an initiative to quickly shelter the state's growing number of unhoused residents. In order to receive the grant, the county had to complete the project within a limited timeframe. This put the Navigation Center on a fast track: the county received the grant in December of 2021, broke ground in April of 2022 and completed construction roughly a year later.
The relatively quick building pace was one of the project team's greatest achievements, according to Adam Ely, deputy executive for the County of San Mateo.
We thought it was important because it would demonstrate an ability to rapidly construct this housing for folks who are experiencing homelessness,

Ely said.

The hope throughout the process was that we would do something that was replicable by other cities and counties.
This faster pace, combined with the use of modular units, posed a coordination challenge, according to Craig Ellis, senior vice president of business for XL Construction, the general contractor for the project. Luckily, the county's development teams were able to collaborate very quickly to ensure that all the necessary pieces came together.
There are complexities with modular construction … One of the main things is you bring utilities to a certain point, but you can't connect them to the units until the units arrive,

Ellis said.

If it's off by two inches, that could be an issue.
The Navigation Center offers an array of amenities, including a dog run and a basketball court. The center also has dental, medical and mental health staff available on site to assist tenants with specific needs.
But the amenity most appreciated by the center's tenants is one that's taken for granted by most county residents: a private doorbell.
It's really symbolic of something that many of these people have never experienced in their life, and that is their own place,

Callagy said.
Solving the problem of homelessness and alleviating the suffering that comes with not having adequate shelter is a goal that should unite residents, rather than divide them, he added.
This is not a liberal or conservative issue; this is one of humanity,

Callagy said.

This is something that we can do — and anyone can do — within a year, if you totally focus on it.
Key Facts
Address: 275 Blomquist St., Redwood City
Size: Four buildings with 240 private units for singles and couples; 108,900 square feet
Cost: $51.3 million
Status: Opened in April
Green features: LEED Silver Certification by the U.S. Green Building Council; Photovoltaic panels which generate 60% site energy consumption, EV chargers and green infrastructure
Challenges: The project was driven by a 12-month schedule mandated by project funding through California's HomeKey program.
Key players
Owner: County of San Mateo
Contractor: XL Construction
Architect: Office of Charles F. Bloszies FAIA
Landscape architect: CMG Landscape Architecture
Structural engineer: BKF
Financial partners: $46.1 million from California's Homekey program; a $5 million donation from John Sobrato; $500,000 federal Community Project Funding grant
Key subcontractors
Electrical and photovoltaic systems: Rosendin Electric
Plumbing and mechanical: Air Systems Inc.
Fire sprinklers: EcoFire Sprinklers Inc.
Landscape designer: CMG Earthwork and Underground Utilities
Landscaper: Maniglia Landcape Inc.
Construction services concrete: Bradley Concrete
Date Published: 09.29.2023
Source: Silicon Valley Business Journal
Link to Original Article (May Require Registration)
Keep up to date with our latest news and industry insights.