Leading the Way to a Sustainable Future
We consider the environmental, economic, and social impacts of all our work. XL understands the nature of our industry and its effect on the planet. This is why we take building and operating sustainably very seriously and integrate green and responsible practices into everything we do.
XL has a proven track record of achieving ambitious sustainability goals and leading the way for notable "firsts" with our projects. Sonoma Academy, is the first project in California – and one of only a few nationwide – to have achieved LEED v3 Platinum, Living Building Challenge and WELL Building Standard Education Pilot awards simultaneously.
Certification Expertise


A Broader Perspective
Sustainability is about much more than just buildings, energy savings, waste management and LEED credits. True sustainability encompasses a bigger vision of social responsibility.
At XL, we plan to baseline all environmental, social and governance operations and create a transparent report that will hold us accountable for our impact. It will also provide our clients with insight into how we operate, so they feel we are aligned with their efforts to successfully meet their own sustainability goals.
Environmental
We have an extensive portfolio of high performing buildings including Living Building Challenge, WELL and LEED projects, as well as the largest-scale mass timber projects ever attempted in Northern California. We have taken ownership of the construction waste produced on our job sites and also track operational greenhouse gas emissions, water use and waste production on all our job sites.
Social
We are the first general contractor in the country to earn the JUST Label, a voluntary third-party verified certification for socially conscious and equitable organizations. This provides a transparent look into our Diversity & Inclusion practices, employee benefits and the availability of equitable opportunities for all XLers. The JUST label also reports on our community stewardship, employee health and wellness standards and our purchasing and supply chain records.
Governance
We leverage a number of tools to proactively identify potential project risks and mitigation strategies before they become issues. We promote and track near-misses, celebrating employees who call out potentially unsafe conditions. We provide clear and transparent communication with our trade partners by publicly publishing our payment schedules. As a union contractor, we partner with local union trades, ensuring fair compensation for every employee engaged in our jobs.
Sustainability at Every Stage
Our sustainability team is involved from the beginning to work closely with our clients and design partners to establish sustainability targets, provide the specifications and requirements that will guide all project partners, assist with healthy product selection and support phase planning to ensure green building decisions made in design can be successfully executed during construction.
Adaptive Reuse
We believe the most sustainable building is often one that already exists. We seize the opportunity to work with owners and designers who share our vision of creating high performing, beautiful spaces from existing structures. Through adaptive reuse, we can utilize these existing structural materials and eliminate the need for additional raw material extraction.
Product & Materials Selection
Our team has extensive experience building with low carbon and healthy building materials. We have a library of products and manufacturers that we've worked with to achieve our clients' embodied carbon reduction goals. We also leverage our knowledge of building material chemistry to meet ambitious Indoor Air Quality standards.
Environmental & Waste Management
XL takes a Net Positive approach to reducing construction and demolition waste on all projects. The goal is to use fewer materials and incorporate salvaged options whenever possible. We establish project-specific waste management plans before we break ground and we self-haul our materials to reputable recycling facilities to guarantee we reduce landfill waste as much as possible.
Onsite Sustainability Program
XL goes beyond our clients' sustainability goals by implementing our own jobsite environmental management plans. We track our waste diversion, water use and carbon emissions regardless of whether our projects are seeking third-party sustainability certifications. We are in the early stages of impact tracking. Once we establish our baseline measurements, we plan to set ambitious improvement goals.
01/05
1st
JUST Certified Contractor in the US
02/05
6
Net Zero buildings built by XL in Northern California
03/05
#1
237 Moffett is world's largest Living Building Challenge petal certified project
04/05
2 of 5
Living Building Challenge Buildings in California were built by XL
05/05
6.5M
square feet LEED projects
XL's Sustainability Impact
We are constantly looking in the mirror and asking ourselves how we as a company can walk the walk.
We joined companies like Genentech and Google in the California Best Buildings Challenge and achieved a 20% reduction in energy, water and waste in our headquarters in just two years.
We are a member of the International Living Future Institute, the organization that created the Living Building Challenge and we partner with other organizations committed to raising the bar for sustainability and pursuing ever-greener solutions for our industry.
We will be producing an annual sustainability report to provide our employees, clients, and partners with a transparent look at our eco-impact and opportunities for continuous improvement.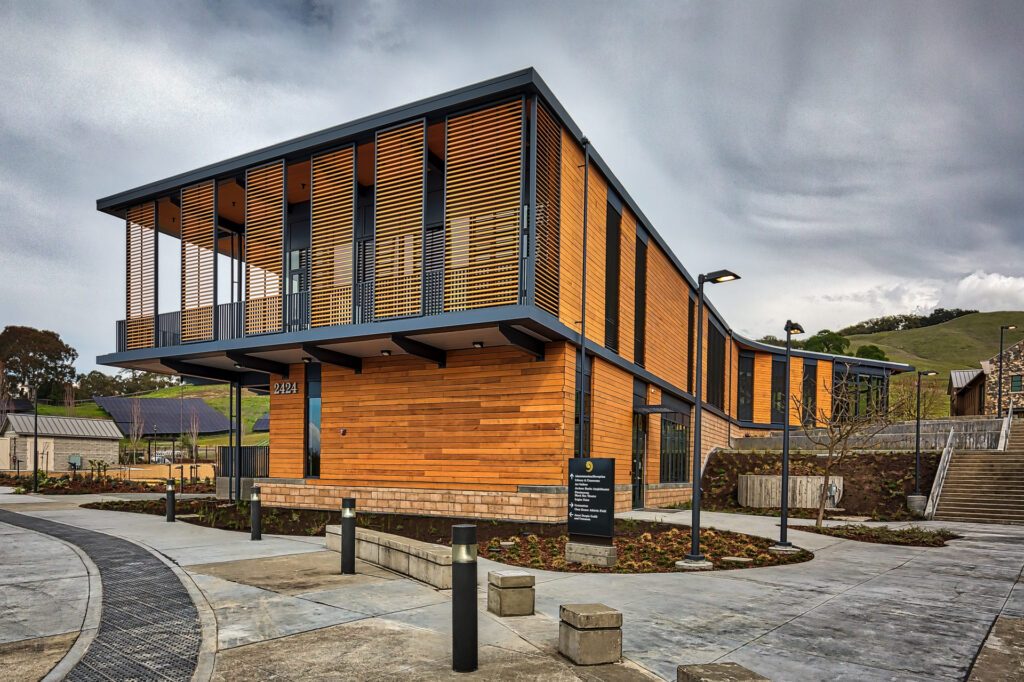 Long View Award for Achievement in Sustainable Design for Google 237 Moffet Park Drive
Source: IIDA
Excellence in Sustainability Award & Safety Award of Merit, Google 237 Moffett Park Drive
Source: ENR California
"All-Electric Commercial Leader" Award: Sacred Heart Willaim V. Campbell Academic and Arts Center
Source: Peninsula Clean Energy
Green Building Award from Sustainable San Mateo and AIA San Mateo County
Source: Sustainable San Mateo County
Northern California 2019 Honor Award: "Serve" category: Sonoma Academy Janet Durgin Guild and Commons Building & "Heal" category: BMS Research Laboratory
Source: IIDA
Sustainable Built Environment: Sonoma Academy Janet Durgin Guild and Commons Building
Source: Acterra Business Environmental Award